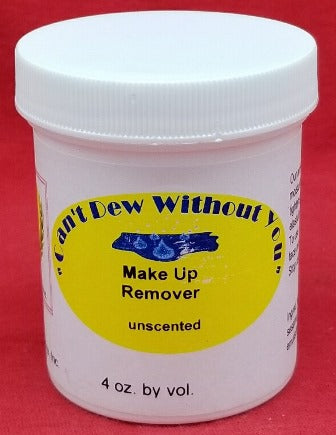 "CDWY Make Up Remover
  

Our

Can"t Dew Without You Make up Remover

is a multi-function remover that easily dissolves both face and eye make up even on the most sensitive skin. This creamy formula leaves your skin clean without any residue. The added benefits are softened lines and wrinkles. This anti-oxidant combination will help reduce the appearance of dark circles also.
To use: Rub make up remover onto dry skin, about a quarter size. Massage in small circles about one minute. Add water as necessary.Rinse using a warm, damp cloth in upward strokes. For eye make up, rub a small amount gently on your lids and remove with cotton pad or tissue using gentle downward strokes. Stop using if rash occurs.
Ingred. aloe vera, glycerine, grape seed, avocado and jojoba oils, and a natural emulsifier
---
We Also Recommend