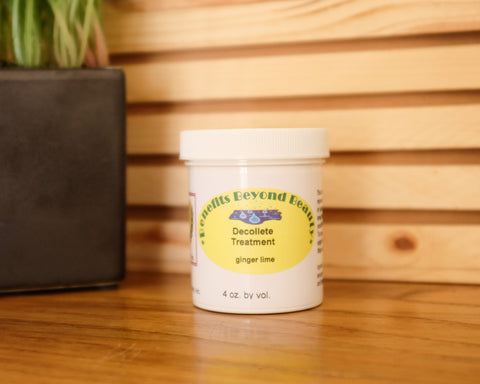 "Decollete" Treatment
Our first product in our new "Benefits Beyond Beauty" line is this Decollete Treatment cream. This product is what you turn to when you need help on your upper chest area and neck. This product is the best in moisturizing, rejuvenating and repairing damaged skin due to aging, sun or just neglect. This product will give your neck and chest area the help it needs in restoring the feel and tightness of youthful skin. This product comes in a 4 oz. jar. 
Ingredients: coconut oil, grape seed oil, shea butter, almond oil, avocado oil, hemp seed oil, sesame seed oil, a natural emulsifier and fragrance if used.
To use: After cleansing you neck and upper chest area, apply the cream liberally over the area. For all skin types. Stop using if irritation or rash occurs.
View a description of our fragrances by visiting the Fragrance Dictionary link. 
---
We Also Recommend