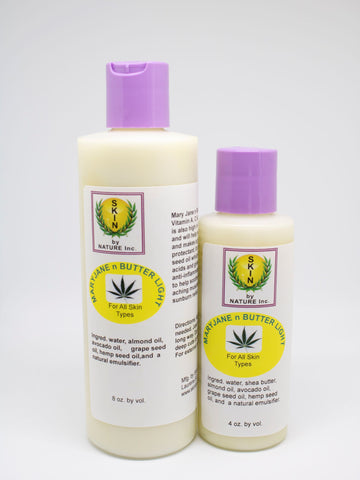 "Mary Jane n Butter Light" Lotion
"Mary Jane n Butter Light" is high in Vitamin A, C & E.This product is also high in Omega 3 & 6 and will help reduce age spots an makes a great skin protectant. It contains hemp oil which is high in fatty acids and gives it anti-inflammatory properties to help soothe sore and aching muscles and aids in sunburn relief. Product is available in an 8 oz. squeeze bottle with a flip top cap or pump.It also comes in a 4 ounce size with flip top cap. Comes in unscented version only.
If you want a light lotion version of our very popular "MaryJane n Butter", here is the product you will love. Quick absorbing and great moisturizing in a great product.
Ingredients: Water, almond oil, avocado oil, grape seed oil, hemp seed oil and a natural emulsifier.
Usage: use small amount as needed on body or face.
View a description of our fragrances by visiting the Fragrance Dictionary link. 
Photo by Belinda Lara
---
We Also Recommend