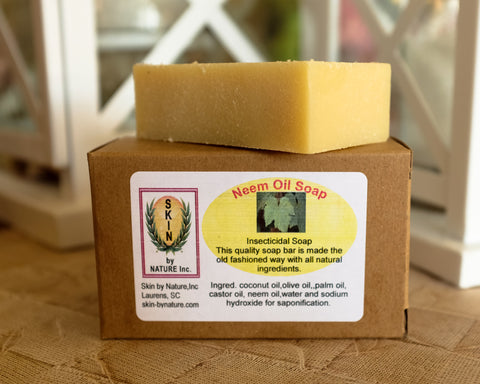 "Neem Oil Soap & Shampoo"
"Neem Oil Soap/Shampoo" is specially formulated with neem oil to rid hair and skin of insects from lice to fleas. This product provides a natural method of getting rid of insects. This high foaming soap/shampoo is perfect for people going into the woods to help repel ticks, chiggers, mosquitos and pesky gnats and flies. This product also when used as a shampoo rids the scalp of lice. This product can also be used on dogs as a shampoo to help rid them of fleas. Just one whiff and the fleas will pack their bags and leave. Neem oil also aids dog's skin by ridding them of rough patches and provides a good healthy coat. This product also contains tea tree essential oil for its healthy attributes. We have also just learned it works on our soldiers stationed overseas to keep away the sand fleas and gnats.
For use on persons, this product should be used as a soap or as a shampoo. Wet skin or hair and massage in and rinse well with water.
For use on dogs: wet animals coat and lather well. Let product stay on coat for a few minutes and rinse off.
Stop using if rash occurs.
Ingredients. Coconut oil, palm oil, castor oil, neem oil , olive oil and sodium hydroxide for saponification.
---
We Also Recommend