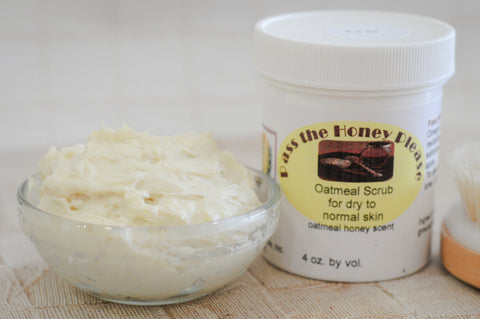 "Pass the Honey Please"
"Pass the Honey Please" contains Vitamins A,E and is high in Omega 3s. This scrub soothes rough, dry or cracked skin. It revitalizes and improves skin complexion and the oatmeal exfoliates leaving skin clean and healthy. It also reduces age spots. Comes in oatmeal honey fragrance or unscented. This is one of our biggest sellers.
Ingredients: Shea butter, almond oil, flaxseed oil, glycerin, water, ground oatmeal, a natural emulsifier and fragrance if scented.
Usage: may be used daily.
View a description of our fragrances by visiting the Fragrance Dictionary link. 
---
We Also Recommend