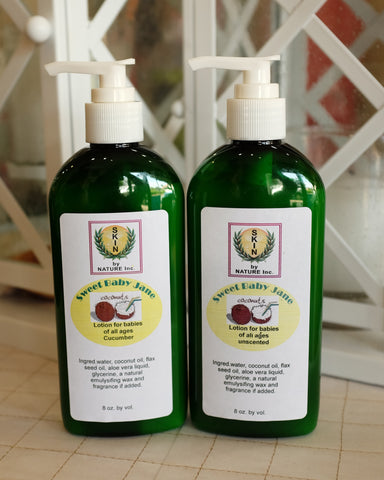 "Sweet Baby Jane" Lotion
"Sweet Baby Jane" lotion is our companion product to our very popular cream. It is high in Vitamins A, C and E and also high in Omega 3 and 6 . This satiny lotion makes an ideal skin protectant. Containing flax seed oil which is high in fatty acids, gives it great anti-inflammatory properties which aid in preventing and healing all types of rashes including diaper rash. This lotion is based in coconut oil and aloe vera and is great for the most sensitive skin. A great all around lotion for babies to seniors. This product is available in an 8 oz. squeeze bottle with a flip top.. It also comes in a 4oz. squeeze bottle. It  comes with the option of fresh cucumber, cinnamon sugar fragrance or unscented . 
Ingredients: water, coconut oil, flax seed oil, aloe vera liquid, glycerine, a natural emulsifier and fragrance if scented.
Usage: Apply a small amount as needed.
View a description of our fragrances by visiting the Fragrance Dictionary link. 
---
We Also Recommend