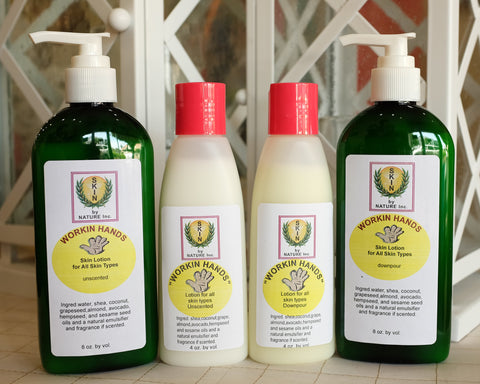 "Workin Hands" Lotion
"Workin Hands" lotion is the perfect mix of a great skin protectant and a moisturizer that is non-greasy. This lotion is rich in vitamins and Omega fatty acids that will also help heal many years of neglected hands. This lotion is perfect for anyone who works with their hands and subjects them to abuse. "Workin Hands" is great for mechanics, metal workers, gardeners, woodworkers and those who subject their hands to dirt, oil or grease.  It's available in a 8 oz. squeeze or 4 oz. squeeze bottle and comes in a unisex fragrance and unscented.It also comes available in a flip top cap or pump in the 8 ounce size.
Ingredients: water, hemp seed oil, sesame seed oil, grape seed oil, coconut oil, shea butter, avocado oil, a natural emulsifier and fragrance if scented.
Usage: use on hands daily.
---
We Also Recommend