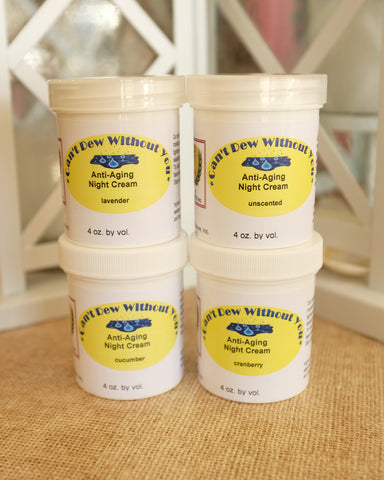 "Can't Dew Without You" Anti-Aging Night Cream
"Can't Dew Without You" Anti-Aging Night Cream is one of those products that once you start using you can't do without. This night cream is loaded with the best in natural oils that soften, tighten and aids in anti-aging. With oils such as grape seed, avocado, almond, sesame, macadamia, hazelnut and jojoba oils in a aloe vera base with glycerine, this will become your favorite night cream ever. Loaded with anti-oxidants you will see your skin lines soften and will get the elasticity back in your skin that you have lost over time. Available in unscented, lavender, cranberry and cucumber in a 4 oz. jarr.
Ingredients: water, almond oil, grape seed oil, avocado oil, jojoba oil, hazelnut oil, macadamia nut oil, sesame seed oil, aloe vera, glycerine, a natural emulsifier and fragrance if scented.
Usage: use nightly after cleansing.
View a description of our fragrances by visiting the Fragrance Dictionary link. 
---
We Also Recommend