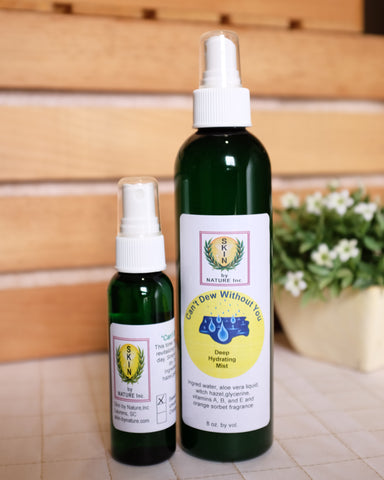 "Toner - Hydrating" Mist
Our "Toner - Hydrating" Mist is a skin preparation cleanser developed to use before makeup to reduce the skin's pH to its proper level and to provide the skin with an ability to rehydrate during the day even under makeup. This hydrating mist is the best way to start your face off in the morning. This product prepares your skin and pores with its needs for the entire day.  After cleaning your face with one of our facial scrub bars, dampen face and then  spray on face or on cotton pad and gently rub into your skin. Most cosmetologist say this is the most important step to take for your face all day.
So start your day with the best "Toner - Hydrating" Mist you can buy. After a few uses you will understand why we call it that when your face feels the best it ever has and you regain some of the youthful tightness and elasticity. Try some today and it is great for all skin types. Available in orange sorbet scent or sweet grass scent or unscented in 4 oz. or 8 oz. spray bottles.
Ingredients: aloe vera, witch hazel, glycerine and fragrance if scented.
Usage: use morning and night.
View a description of our fragrances by visiting the Fragrance Dictionary link. 
---
We Also Recommend