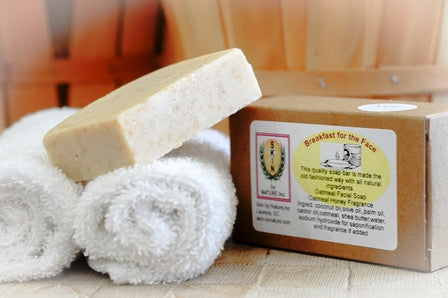 "Breakfast for Your Face" Facial Scrub
"Breakfast for your Face" is rich in Vitamins A and E. It provides healthy skin collagen which prevents premature wrinkles and lines. Vitamin E keeps skin clean and healthy and revitalizes rough, dry and cracked skin. This scrub bar contains oatmeal to give your skin that clean, fresh feel and gives ageless beauty. "Breakfast for your Face" may be used on all skin types. Perfect for dry to normal skin.
Ingredients: Coconut oil, olive oil, shea butter, palm oil, castor oil, ground oatmeal, water and sodium hydroxide for saponification.
View a description of our fragrances by visiting the Fragrance Dictionary link. 
---
We Also Recommend