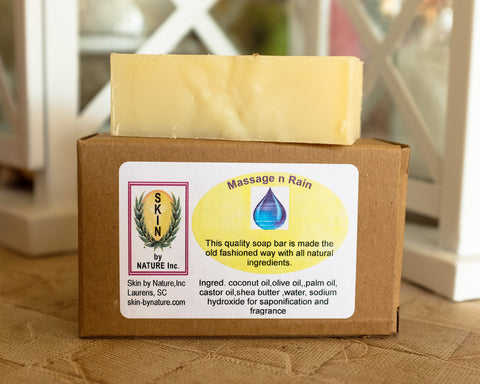 "Massage n Rain" Soap
"Massage n Rain" is a high quality soap containing olive oil, coconut oil, castor oil and also contains Shea Butter. Shea Butter contains Vitamins A and E . This gives the soap properties such as:
Helps provide healthy skin collagen which prevents premature lines and wrinkles
Excellent skin protectant and revitalizer
Soothes rough, dry and cracked skin
Lather this soap on your skin, the longer you leave it on the softer your skin gets. This soap is scented with a delightful ocean rain fragrance that is sure to please. Clean, fresh scent.
Ingredients: coconut oil, olive oil, palm oil, castor oil, shea butter and sodium hydroxide for saponification and fragrance.
---
We Also Recommend