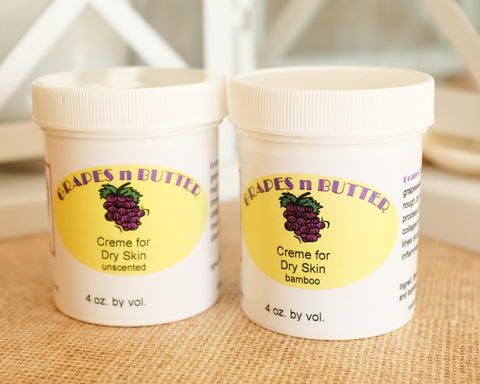 "Grapes n Butter" Cream
"Grapes n Butter" is a blend of shea butter and grape seed oil. It is rich in Vitamins A,C & E. It soothes rough, dry skin. It contains antioxidants that slow the process of aging. The product also promotes healthy collagen which prevents premature aging and smooths lines and existing wrinkles. Its anti-inflammatory properties also help clear acne. Available in 4 oz. jars.
Available in fresh bamboo fragrance and unscented.
Ingredients: Shea butter, grapeseed oil, a natural emulsifier and fragrance if scented.
Usage: apply a small amount on face or body.
View a description of our fragrances by visiting the Fragrance Dictionary link. 
---
We Also Recommend